Aspiro 2U

Aspiro 2U
AVAILABLE IN NORTH AMERICA ONLY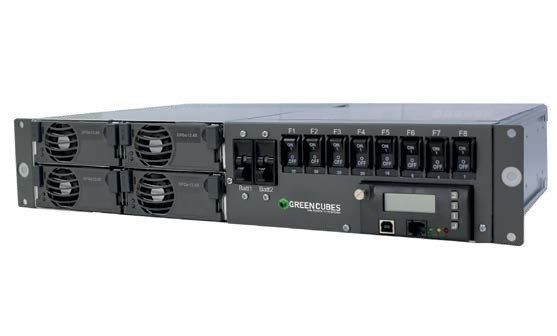 Product Information
Aspiro 2U 60 Amp Front Access DC Power System is a 2RU high 19" rack-mounted, integrated solution providing an output of -48VDC. The system can accommodate up to 4 Aspiro family high efficiency hot-swap rectifiers.
Aspiro 2U 60 Amp Front Access DC Power System provides a total load current of 60A / 3.2kW with battery charge current up to 30A in addition. The rectifiers are internally fan cooled with speed control which is a function of load and temperature, keeping acoustic noise to a minimum. The systems offers full front access for cable connections with push-pull mounting brackets for either 19" or ETSI mounting.
The DC output circuits of the Aspiro 2U 60 Amp Front Access DC Power System can provide up to 8 loads with breakers rated from 1A to 30A. 2 additional breakers provide battery protection. A programmable 125A low voltage battery disconnect (LVBD) is standard while an optional partial load disconnect (PLD), also rated at 125A and programmable, can provide non-critical load shedding when operating on batteries.
Three Year warranty
Features and Options
>95% Efficiency Rectifiers
60A / 3.2kW Load Capacity
Full Front Access
Intelligent Battery Management
Remote Monitoring & Control
Field Replaceable Controller
Ethernet Comm. with SNMPv3
3 LED Alarm/Status Indicators
4 Form-C Relay Alarms
8 Load & 2 Battery Breakers
LCD Display/Touchpad
Easy Installation
SPECIFICATIONS

OUTPUT
System Voltage
-48VDC nominal | -53.5 float (factory default setting, user adjustable)
Maximum Capacity @ 120VAC nominal
Load – 60A
Battery – 60A discharge | 30A charge (s/w controlled)
Maximum Capacity @ 230/400VAC nominal
Load – 60A
Battery – 60A discharge | 30A charge (s/w controlled)
No. Rectifier Slots
4
DC DISTRIBUTION
Load Circuits
8 x 1A to 30A
Battery Circuits
2 x 30A to 100A
INPUT
Voltage (nominal)
1-phase 100-120/200-240VAC (L + N + PE)
2-phase 200-240VAC (L1 + L2 + PE)
3-phase 230/400VAC (L1 L2 L3 + N + PE)
Frequency
47-63Hz
Maximum Input Current
32A @ 100-120VAC | 14A @ 200-240VAC | 8A per phase @ 400/230VAC
Rectifier Power Factor
>0.98 (typical)
Surge Protection
Optional
MONITORING & CONTROL (ACX Advanced Controller)
Alarm Relays
4
Local Interface
4 x 20 LCD, 4-key menu, USB / RS232, microSD card slot (4GB max,) for data logging
Remote Interface
Ethernet / Modem using PowComª software package
Ethernet port allows monitoring and control over a TCP/IP network.
Web browser support + SNMPv3.
LED Indications
Green – System ON; Yellow – Message(s); Red LED – Alarm(s)
External Digital I/O
2 x Inputs, 2 x Outputs (Open Collector)
BATTERY MANAGEMENT
Symmetry Inputs
6 or 12 (can be redefined as analog inputs up to 100VDC)
Low Voltage Battery Disconnect (LVBD)
1 x 125A Programmable
Partial Load Disconnect (PLD)
1 x 125A Programmable (Optional)
Temperature Compensated Charging
Programmable
COMPLIANCE
EMC
EN 300 386 ; EN61000-6-3 (Emission) ; EN61000-6-2 (Immunity)
Safety
IEC60950-1:2005 2 Ed. +A1:2009
ENVIRONMENTAL
Operating Temperature
-40°C to +55°C
Storage Temperature
-40°C to +85°C
DIMENSIONS, ins. (mm)
19″ Mounting
19.0 (483) W x 3.5 (88) H x 11.7 (297) D
ETSI Mounting
21.1 (535) W x 3.5 (88) H x 11.7 (297) D
INTELLIGENT BATTERY MANAGEMENT
(PROVIDED VIA ACX ADVANCED CONTROLLER)
Battery Disconnection
Provides voltage controlled disconnection of batteries.
Boost Charging
Manual time controlled or automatic boost charging with adjustable time and voltage levels.
Battery Tests
Automatic or manual testing of batteries up to six times per year with a 10 test memory. Variables include test duration and end voltage.
Battery discontinuance test to ensure battery connection.
Enhanced Battery Monitoring
Monthly logging of essential battery parameters including temperature, temperature hours, current, charging voltage and symmetry voltage, Data logged for 5 years.
Site Logs
System tools developed to assist site management. Daily peak load and statistic logs available.
Symmetry Measurement
Optional tool that measures batteries for early detection of thermal runaway.
Temperature Compensation Charging
Allows continuous adjustment of output voltage according to battery temperature.
Features include adjustable compensation factor and separate thresholds for high temperature alarms.
Load Shedding (PLD)
Optional feature that allows voltage or time controlled disconnection of non-essential load.
STOCK MODELS (normally held in stock for immediate delivery)

ORDER CODE
DESCRIPTION
MS0023G*900036
Single Feed (1-phase or 3-phase) OR Dual Feed (2-phase)
ACX Controller
4 alarm relays
100A Battery Breakers [x2]
Load Breakers: 30A/30A/20A/20A/15A/15A/ 10A/10A
19" Slide-Mounting Brackets
3m Temperature Sensor Cable [x1]
3m Symmetry Cables [x2][Rectifiers & blanking modules must be ordered separately.]
XR08.48G
XPGe12.48G
XB-01-G
17A/800W Rectifier Module
25A/1200W Rectifier Module
Blanking Module
For complete details see the datasheet.
For more information, please visit the UNIPOWER Brand page for this product HERE