For over 30 years, Green Cubes Technology has helped OEMs safely convert from lead acid systems to the right lithium technologies for their operations. Among the many providers of lithium solutions, we stand apart for our precision-engineered conversions of industrial tools, small electric vehicles, hospital systems and telecom towers. Our reputation and years in the business stand behind us to keep us innovating and driving ahead.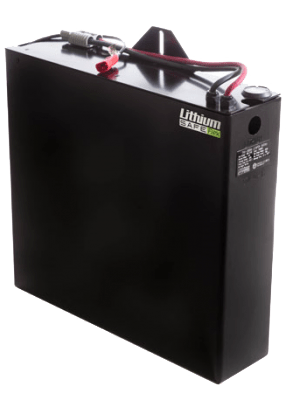 Lithium SAFEFlex
Lithium SAFEFlex is a comprehensive, self-managed battery solution designed to meet the cost, performance, efficiency and durability requirements of the rugged warehouse environment. It includes application-specific cell chemistry, charge/discharge management and advanced safety features such as thermal, short circuit, overvoltage and undervoltage protection. All of this can be remotely controlled and managed through included software.
Up To 4x Longer Lasting!
Lithium SAFEFlex boasts a cycle life of up to four times that of lead acid batteries while delivering a consistent output – from installation to the end of its stored capacity. Lead acid systems lose power and operating efficiency over their short cycle life, leading to increased operating costs with decreased performance. Thanks to its advanced chemistry and overall efficient technology, Lithium SAFEFlex allows operations to run all day without battery swaps!
No Maintenance Hassel
Lithium SAFEFlex batteries are electronically monitored and equalized. They don't require watering or cleaning of corrosive acid, nor do they emit dangerous gases during charging.
Superior Technology
Lithium SAFEFlex chemistry allows for 98% or higher charging efficiency, which is an average of 30% more efficient than lead acid charging technologies – allowing for increased productivity and less overall power consumption. Additionally, Lithium SAFEFlex captures up to 80% more regenerative energy than lead-acid systems – avoiding energy waste and providing longer run times with less frequent recharging. Lastly, Lithium SAFEFlex's advanced chemistry allows complete recharge in one hour with NO degradation. Lead acid batteries can degrade by 50% if "opportunity charging" is done twice per day.