KOKOMO, INDIANA Sept 8, 2021 – Green Cubes Technology (Green Cubes), the leader in producing Lithium-ion (Li-ion) power systems that facilitate the transition from lead acid batteries and Internal Combustion Engine (ICE) power to green Lithium-ion (Li-ion) battery power, today announced the patent award for a multi-cell management device for Li-ion batteries. This patent is relevant to industrial motive battery applications, such as material handling and ground support aviation equipment.
These demanding applications require large battery arrays with many Li-ion cells in series and parallel in order to achieve high power and capacity for multi-shift usage. The electronics managing the battery's communication and safety must enable a robust design that will last for thousands of cycles over many years in harsh conditions.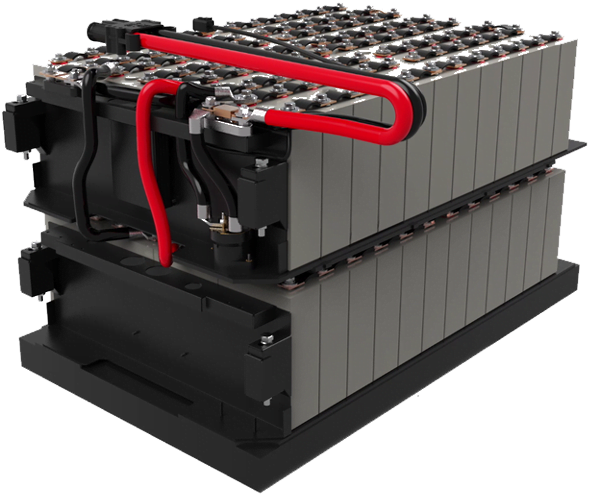 Battery packs consisting of multiple cell lithium batteries can become unstable as the individual cells age and the voltage output from each cell begins to vary with respect to other cells during operation. Balancing the output of individual cells ensures safe operation of the battery system and improves the performance and life expectancy of multi-cell battery packs. With this multi-cell management device, each cell is monitored with a Battery Management Systems (BMS) that measures the voltage of each serial connected cell. Active power control functions balance cell voltage output during charging and discharging operation. With this technology, the elimination of wires and connections to each cell significantly reduces wiring costs and system complexity. The inventors named on patent 11,063,445 are Anthony Cooper of Kokomo, IN, USA and Vasanth Mithilacody of Bangalore, India. For a full description of the patent, read more here.
"Our customers demand the reliability and performance in very demanding use profiles," said Robin Schneider, Director of Marketing, of Green Cubes. "This new generation BMS with robust cell balancing is designed to last the life of a forklift and is based on a decade of experience and engineering"
As a leader motive power, Green Cubes continues to invent new and better technology. The latest innovations offered in their motive Li-ion batteries include features such as multi-voltage fast charging, dual CANbus communication, and wireless IoT features in addition to continuous improvements such as this new generation BMS with cell balancing for improved reliability.