105 Ah Battery Backup Unit | GBU-3U

105 Ah Battery Backup Unit | GBU-3U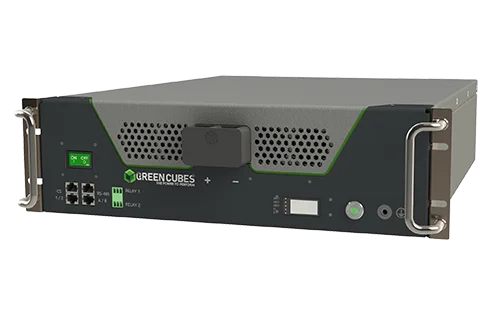 Product Information
The Guardian Battery Unit GBU-3U is a 48V 19" rack-mountable Lithium ion Battery Backup Unit (BBU) designed to be used in conjunction any modular DC Power System. The GBU Series of 48V batteries have been designed for data center and telecom applications as a replacement to Lead Acid batteries. This Modular Energy Solution can be scaled to meet any mobile switching center need.
The patented Energy Balance Technology (EBT) provides internal balancing among the BBU modules connected in parallel. The EBT ensures consistent voltage and current delivery from the entire system of connected modules, which maximizes runtime and power delivery. This technology allows the energy storage rack to be simple and self contained.
Remote management via the Modbus, over RS-485 or Ethernet via the Unipower GCC Controller with PowCom™ software provides immediate access to performance and alarm information.
Lithium Iron Phosphate (LFP) chemistry provides the longest life with over 3000 cycles and the lowest total cost of ownership.
Features and Options
3RU High variant with 105Ah of capacity
19-Inch Rack Mounting
Current Capacity: 100A
Operating Voltage: 48Vdc
Scalable, connect multiple units in Parallel
RS-485 Communication Ports
SPECIFICATIONS
Electrical Parameters
Lithium-Ion Chemistry
Lithium Iron Phosphate
Nominal Voltage
48V
Voltage Range
42.7-54.8V
Nominal Capacity
105Ah (5040Wh)
Continuous Discharge Current
100A
Pulse Discharge Current
115A for 300ms
Quiessentient Current Draw
6mA
Maximum Input Voltage *
58V
Min/Max Charge Current Range
3-100A
Cell Balancing
300mA
Maximum in Parallel Operation
16
Physical Parameters
Terminals
Four threaded receptacles, M6 bolt pattern
Dimensions, case
17.3″ X 22″ X 5.14″, 440mm X 558.8mm X 130.5mm
Weight
50kg (110 lbs)
Communications and Control
Serial Communication
ModBus over RS-485
Network Communication
Full SNMP and CLI over Ethernet when used with GCC controller
Environmental
Operating Humidity
5% to 95% non-condensing
Charge Temperature Range
0°C to +55°C
Discharge Temperature Range
-20°C to +55°C
Thermal Management
Variable Speed Fan
Airflow Direction
Front to Back (PN Suffix A), Back to Front (PN Suffix omitted)
IP Rating
IP 20
Approvals and Safety
Agency Approvals
UN 38.3, IEC 62619, (UL1973 Pending)
Radiated and Conducted Emission
EN55032 / CISPR 22 Class A
Calendar Life @ 80% SOC **
20 Years
Cycle Life @ 80% SOC
3500 Cycles
Battery Modes
Battery modes – Ship and active
Shipping Classification
Class 9
* Max voltage applied to terminal
** Fan is replacement part